News
Apartments in Borovets and Bansko offer good value for money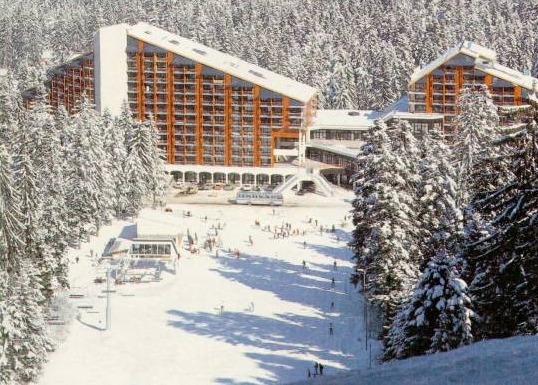 If you wish to have your own place on the ski pistes is not necessary to be a millionaire. While deep pockets may be needed if your heart is set on established resorts in Austria, France and Switzerland, those on more modest budgets should consider former Eastern Bloc countries.

Bulgaria's real estate market has had its fair share of bad press, thanks to overbuilding and dodgy developers, but it remains among Europe's cheapest investment destinations, as Mark and Maureen Fleming know.
In 2008, the NHS workers bought a four-bedroom off-plan chalet in
ski resort Borovets-Bulgaria
, for 130 000which is about 160 000 Eur. It was completed in 2010 and keen skiers Mark-46, Maureen-50, and their children Jack-18 and Sophie-12, love their holiday Bulgarian property in the Chamkoria Chalets complex.
"Bulgaria appealed because of the cost", admits mark. "We'd skied in France and Italy but prices were outside our budget, other than studios in resorts that didn't interests us".
The Flemings, who live in Kiwinning, Ayrshire, began researching Bulgaria's three main ski resorts, Bansko,
Pamporovo
and
Borovets
, after seeing adverts for ski properties. "We decided Bansko wasn't for us because there was too much development," says Mark. "We wanted a smaller resort so we choose Borovets."
Borovets resort is 50 miles from Bulgaria's capital –Sofia, and nestled on the northern slopes of the Rila Mountains, the highest range in the Balkans. In the 19
th
century it was a hunting place for the Bulgarian kings and now it's an ideal resort for intermediate skiers and learners and perfect for family holidays in Bulgaria.
"Property Prices are good ,"says Mark, "with lift passes and ski lessons much cheaper than in France and Austria. For 2013 it's around 120 GBP for an adult's week-long lift pass, or 20GBp for a day. It would be at least double elsewhere."
Eating out is inexpensive too: "A beer is about 1.20GBP and a one- course meal for four is around 15GBP, and that's in the resort. In Samokov, six miles away, we can eat for a tenner."
The Flemings spend up to two weeks each winter in their Borovets chalet, which is inside a national park. They visit in summer as well, and go mountain biking and walking. The rest of the year it is available to rent, although Mark explains: "We are not looking to rent it out every week, just enough to cover our annual maintenance costs of around 1 500 GBP" which is about 1800 EUR. Chalet Sinchets costs from 460 GBP( 565 EUR) a week in summer to 1200 GBP ( 1500 EUR ) in winter.
The Flemings bought the chalet for family holidays in Bulgaria and don't intend selling, which is fortunate because the Euro crisis has reduced its value. The economic downturn, however, means that now is a good time to buy property in Bulgaria.
"Property prices in Bulgaria are at record lows," says Concept Bulgaria's managing director Sean O'Leary. "Between 2008-2011 prices dropped 50 per cent before stabilizing in 2012. Currently, you can buy a ski chalet or apartment cheaper than you could build one"
At the Chamkoria Chalet complex, where facilities include everything from a swimming pool and sauna to mini-market and restaurant, one and three- bedroom apartments are available from 30, 000EUR and 79 000EUR respectively , while four bedroom chalets are on sale for 149, 000EUR
Bulgaria is well served by budget airlines with Wizzair and EASY JET flying to Sofia, the nearest airport to Borovets and Bansko, and Ryanair serving Plovdiv, the country's second city 50 miles from Pamporovo. Set 1 620 meters up amid the pine- clad Rhodope Mountains, Pamporovo is the country's sunniest ski resort.
Bulgaria has more affordable ski properties than ever before, so now is the time to make a good deal and buy your holiday home in Bulgaria.
Sources: SundayExpress.co.uk
Back to news