News
Rose festival 2011 in Kazanlak, Bulgaria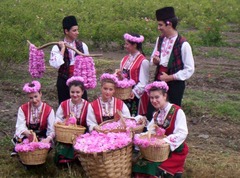 The Rose Festival is unique for the town of Kazanlak in Bulgaria, gained world popularly. This festival takes important part of the spirits of the Kazanlak townspeople during the years.
The first rose festival took place in 1903 in Kazanlak with charity cause. Kazanlak is well known with rose oil manufacture. A long time this is only means of living. Barely later in the years the rose gardens, the beautiful nature And architecture, the rose manufacturing become attractive things that challenge the interest of many Bulgarian and foreigners tourists
The rose festival is symbol of the rose manufacturing, the youth and beauty.
This year 2011 the rose festival will take place from 1th-6th June at Kazanlak. Come and spend a night or two at Kazanlak in June to breath, to immerse in the rose fragrance. Feel the roses as a resource for healing, creativity, balance, peace and beauty.

Back to news